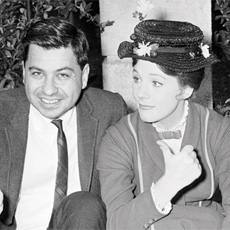 Many virtues define a true legend, but divine talent is what differentiates "
Disney Legends
." For the second segment of our "Lunch with a Legend" series, the Insider broke bread with Disney Legend
Richard Sherman
who (along with brother
Robert
) was half of the only songwriting-composing team ever to work on staff for The Walt Disney Company. From "
Mary Poppins
" to "
Winnie the Pooh
," this award-winning duo is known the world over – if not by name, then by song. Though Richard admits he's shared them a "million times," the master showman was thrilled to recount some of his most poignant memories.
Meeting Walt Disney
"Here's how it all began for my brother Bob and myself ... we were freelance pop songwriters and a little girl named
Annette Funicello
sang a song we'd written called 'Tall Paul,' which became a really big hit. We started writing songs specifically for her, and had hits with 'Pineapple Princess' and 'Jo Jo, the Dog-Faced Boy' – big rockers back in 1959/1960. Little did we know Annette was Walt Disney's very favorite Mouseketeer ... he listened to all her songs and liked what he was hearing."
Things changed when Walt wanted Annette to sing in a TV movie called "The Horsemasters" since her records were so popular – and requested that the brothers write the song. "Jimmy Johnson [head of the record company] asked if we wanted to give it a shot, so we wrote 'The Strumming Song.' Jimmy liked it, but said Walt would have the final word. We asked 'Walt who?'" After learning that the Walt in question was Walt Disney, Richard wanted to demo the song with a female singer before the meeting, but was told Walt likes hearing things the way they were written.
With trepidation, the brothers brought their song up to Walt's office. "Now picture this ... Walt was sitting behind his desk signing pictures. I'll never forget it because it was our first meeting with the great man. He looked up and asked if we were really brothers because there were a lot of brother acts in vaudeville with people who weren't really brothers. I said 'No, we actually have the same parents!'"
When Walt began discussing "
The Parent Trap
," both brothers immediately knew he was talking about the wrong film. "I was dying, but my brother Bob was brave enough to say that we were there with Annette's song for 'The Horsemasters.' I mean, how do you tell an icon he's telling you the wrong story?" After what Richard calls the most brutal performance of "The Strumming Song," Walt said, "That'll work," and gave them a script to see what they could come up with for "The Parent Trap." Richard and Robert were completely bewildered and thought the worst. "Jimmy said, 'Are you kidding? He bought one song and gave you another assignment!' We didn't even realize he LIKED what we had done. So that was our very first encounter with the man who changed our lives forever."
From there, they went on to write songs for "The Parent Trap," "Zorro," "Texas John Slaughter," and many other films and television shows. "Walt kept giving us assignments – he was testing us. He'd always say, 'That'll work,' and give us another assignment. Jimmy told us to keep'em coming."
"Mary Poppins"
Little did they know their careers would be thrown into overdrive when Walt asked "
The Boys
" (his nickname for the brothers) if they knew what a nanny was. Their reply? "Yeah, it's a goat! We thought he wanted us to write a song for a nanny goat!" But Walt asked them to read P.L. Travers' book "Mary Poppins," and let him know what they thought. "He threw the gauntlet down and wanted to see what we'd do with it. So Bob and I read these very charming stories, but panic struck when we realized there was no storyline – it was strictly about a nanny who flies in on the east wind, takes the Banks' children on wonderful adventures, and flies out when the west wind comes along."
Not knowing where to start, they selected six chapters to loosely base a story on – and the chosen adventures inspired scenes like "Jolly Holiday" and "Feed the Birds." Richard recalls the follow-up meeting with Walt. "Walt was as excited as we were! He fell in love with 'Feed the Birds,' which became his favorite song. When we were done, he asked to see our notes, which were pretty dog-eared from underlining and highlighting. We gave him our book and then he pulled out his copy. He had underlined the same six chapters – that was gooseflesh time. It really, really was amazing."
Walt then invited Richard and Robert to work at Disney. "We said YES, we'd love to work here! He already had a contract written up and told us we'd have an office down the hall. Walt wanted us to develop the story with screenwriters Bill Walsh and Don DaGradi, but called it our 'backburner project' because he planned on giving us lots of work. And that was the turning point in our lives ... two beloved stories that I vividly recall, and both involved Walt Disney."
Aside from "Mary Poppins," the Academy-Award®-winning duo (they garnered two for "Mary Poppins" alone!) wrote songs and scores for countless Disney classics, including "
The Jungle Book
," "
The Aristocats
," "
Bedknobs and Broomsticks
," and the "Winnie the Pooh" short films. Though Richard says they were always creatively connected to Walt, their time with him was limited but intense. "We started with Walt in 1960 until 1966. Walt was very, very thoughtful and kind to us ... if he liked what you were doing, he'd never gush. You'd always hear from someone else that he flipped for whatever it was you did. When he died, we worked at the studio for several years, but it just wasn't the same. We've had a wonderful career thanks to Walt Disney."
Richard is currently working on his second album of instrumental music, which he calls a cross between pop and semi-classical. "I've always been a happy person. I'm very positive and so was Walt ... that's what he liked. If our music makes people feel good about themselves and gives them hints about how to act, I think we were very lucky to write those songs. It's a nice feeling to know the rest of the world responds to your material."