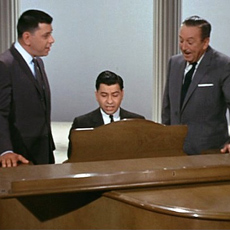 When Walt Disney took new talent under his wing, he built a strong sense of family felt throughout the Company today. Despite his demanding reputation, Walt was revered as an incredible mentor, leader, and beloved father figure – making those who worked for him firsthand want to please the boss with excellence and undying loyalty. Thanks to the pride imbued by Walt's spirit, it's not surprising to find employees with generations of family ties from every facet of the Company. We've selected the magic-making examples of a distinguished few to illustrate how the tradition's been upheld.
The Shermans
Disney Legends (and brothers)
Richard
and
Robert Sherman
started their own Disney dynasty that's still going strong – more than 50 years later. Responsible for creating classic Disney music like "
It's a Small World
," "
Chim Chim Cheree
," and "
I Wan'na Be Like You
," the prolific pair (more than 1,000 published songs and 50 film scores) remain the only staff songwriters ever hired in Company history. Richard's son Gregory and Robert's son Jeffrey followed in their famous dads' footsteps and reveal how "growing up Disney" affected their lives.
Writer, producer, director, and composer Jeff Sherman realized his destiny early on. "My childhood was absolutely magical ... I'd ride the rides at
Disneyland
before they'd open, see movies before anyone else, attend recording sessions, visit sets and sound stages. Being exposed to Disney culture was very important – I knew how privileged I was to have this family background. One of my goals was to work for Disney because there was a warmth that felt like home to me. That continues to this day."
Jeff met Walt several times and recalls one particular instance. "My dad brought me to the studio often, especially while filming '
Mary Poppins
.' We were having lunch at the commissary and Walt walked in. After telling him that the 'London rooftops' set was only four feet tall (and NOT like real rooftops at all), Walt knelt down, framed his hands in front of me, and explained how the buildings would translate on camera. He called it 'movie magic' and said I could never tell my friends. From then on I felt challenged to think of my own ways of creating magic."
His brand of magic grew into creating, writing, and producing one of the first
Disney Channel
shows ("The Enchanted Musical Playhouse," which featured songs by his dad and uncle), and writing/producing various Disney-ABC television shows and movies (including the hit series "Boy Meets World" and top-rated "Au Pair III"). In 2008, Jeff and a partner founded their current entertainment development, production, and marketing firm – Traveling Light Partners – based on one of Disney's core values, teamwork. His sons Alex and Ryan (another generation of Sherman Brothers!) have both inherited the musical gene – Alex writes music and plays several instruments while Ryan plays the piano, particularly songs created by his grandfather and great-uncle.
The younger of the two cousins – writer, producer, show creator Gregg Sherman – also experienced an idyllic childhood, growing up in "an atmosphere of happiness, creativity, and constantly playing music." (Not hard with five pianos in the house!) He worked for years at Buena Vista Television (part of the Disney family) on award-winning game shows like "Debt" and "Win Ben Stein's Money." After working on numerous Disney shows and developing game shows for other studios throughout the mid-to-late 1990s and beyond, Gregg decided to focus on projects that were a bit more "substantial."
"Ironically, I took a break from game shows and had the opportunity to attend the opening of the London stage production of 'Chitty Chitty Bang Bang,' [the score was originally composed by his dad and uncle] where I met and spoke with my cousin Jeff for the first time. We discovered that we both wanted more lasting and meaningful work." That conversation ultimately led to their labor of love – "
The Boys: The Sherman Brothers Story
" (2009), a critically acclaimed film documenting their dads' lives, unique personal relationship, and career highlights.
"Jeff and I realized there was a story there and we're both storytellers ... we got to work for Disney in a totally different capacity than either of us had ever done before. It was really rewarding." Gregg points out that the contrast between their dads' differences and the style of music and lyrics that they wrote created a visceral reaction from audiences worldwide. Both Gregg and Jeff agree that putting their dads' legacy on the map is their most important work to date.
Gregg too has his own set of musically talented, third-generation Sherman Brothers – Matt "Third Rail" Sherman is an up 'n' coming rapper while William "The Super" Sherman is making a name for himself as a YouTube sensation. "Being a Disney kid meant my dad embodied the spirit that Walt imparted to his employees. It was a phenomenal way to live one's life, and I've tried to do the same with my two boys."
The Normans
Another Disney Legend, animator
Floyd Norman
, shares his love of all things Disney with wife Adrienne Brown, a senior staff artist at Disney Publishing (that's where they met back in 1993!). Floyd began his Disney career in 1956, eager to learn from the best (he still refers to himself back then as "this kid from Santa Barbara") and made his mark animating classic Disney films like "
Sleeping Beauty
," "
101 Dalmatians
," and "
The Sword in the Stone
." Floyd's tutelage under Walt came about 10 years later, after being drafted to the story department to rewrite "
The Jungle Book
."
While Floyd still works for Disney at age 75, wife Adrienne has been illustrating books for almost every animated film the Studio's produced since 1994. As modest and multitalented as her husband, Adrienne (who's also an accomplished photographer) has illustrated everything from
Mickey Mouse
to "
Monsters, Inc.
," but is most proud of her artwork for the
Fairies books
, a series about
Tinker Bell
and her
Pixie Hollow
pals. Flitter-iffic fans take note – Adrienne also painted the end credits for the animated feature "
Tinker Bell
" in 2008!
Goldie Hawn and Kurt Russell
Behind the scenes or in front of the camera, pixie dust (and the spell it casts) knows no bounds. In 1968, celebrity couple-to-be Goldie Hawn and Kurt Russell met while filming Disney's "
The One and Only, Genuine, Original Family Band
," Goldie's feature film debut as a dancer (she played the Giggly Girl, while Kurt portrayed Sidney Bower). Kurt went on to star in numerous Disney movies, including "
The Barefoot Executive
" (1971), "
The Horse in the Gray Flannel Suit
" (1968), "
The Computer Wore Tennis Shoes
" (1969), "Walt Disney's Wonderful World of Color" (TV, 1967-1972), and "
The Fox and the Hound
" (1981, as the voice of Copper).
Floyd lovingly asked, "What better boss could you work for than Walt Disney?" These are only a few of the
many families
who agree!